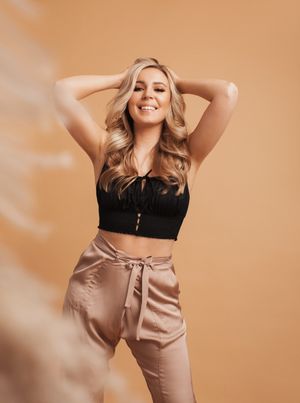 Elyse Saunders
THE ARTIST: Peterborough, Ontario native Elyse Saunders, is a 2023 CMAOntario award winning artist that's carved her path in Country music as a powerhouse vocalist, dynamic stage performer and topline songwriter. Not only is she quickly building a name as an exceptional talent, but her undeniable & unstoppable drive has been the foundation to her rising success. 
As a FACTOR Canada (JSR) & Creative BC funding recipient, Elyse's has been making huge strides in Canada & her music continues to build an international buzz. Most recently, she received "Video of the Year" at the 2023 CMAOntario awards in addition to being a 3 x Mississauga Music award winner. Her music videos have received multiple features on CMT Nashville, regular rotation on CMT Australia and rotation on Stingray's Country TV. She's done hundreds of media interviews across Canada, US, Australia & Europe with multiple feature TV performances on news outlets in Canada & the U.S, and to date, her songs have gained over 3.5 million global streams. After gaining the attention and support of Apple Music & Amazon Music major editorial playlists, Elyse has been featured on several of their playlist covers and listed in Amazon Music's "Top 50 Most Played Country" for single, "Sunshine State of Mind". In 2021, Elyse's music was selected from thousands of submissions, as a winner of CBC's "Toyota Searchlight", providing radio support for her song, "Genes" across Canada, Australia and the U.S. 
As an entertainer, Elyse has always looked up to world class entertainers like Shania Twain & Garth Brooks and it's where she truly shines as a female artist. Elyse takes pride in building a memorable show that connects her closer to her fans & new audiences and has already played over 400 shows at festivals like Boots & Hearts, Sunfest, Canadian Music Week as well as CMAOntario awards, CCMA week & more.
THE SONGWRITER: As a songwriter, Elyse has steadily grown her songwriting catalogue between Nashville & home for several years which has lead to many successful releases of her own and 13 outside artist cuts since 2021. Elyse Saunders has a knack for finding melodic ear-candy hooks and likes to approach her syle of writing with textured, conversational lyrics and ingenuity. When listening to her music, it's evident that Elyse brings her own flare to the country music genre while keeping within the commercial lane. As much as she's had stunning success releasing her own recorded material, Elyse equally enjoys working as a team through collaborations with other writers and artists. When going into a co-writing session for another artist, Elyse brings the fine ability to write to the artist's own unique essence, story and voice while leaning into her experience as a songwriter. After over a decade of collaborating with other writers between Nashville & Canada, Elyse now considers herself as a growing professional with an impressive catalogue, multiple songwriting cuts in the Country music genre and an open adaptability to write for other genres with recent cuts in the Pop & Pop-Punk genre.
HIGH RES PHOTO DOWNLOAD LINK: 
https://tinyurl.com/ElyseSaundersHQ
—
  "A producer is only as good as the song and the artist they are producing and Elyse Saunders is a dream come true. She has profound natural talent combined with the rare work ethic needed to stand out in a very crowded music industry. Soulful emotion and vulnerability comes so naturally to her, but her impeccable pitch, raw power and projection comes only to those that work for it. She's so good with melody and lyrics and overall has such great instincts for what makes a song great. When Elyse Saunders sings - I get shivers! She's the type of artist that lights up a room and stage with her presence - I hope the world discovers what I already know. Elyse Saunders is a star." — Dan Swinimer, CCMA Award-Nominated Producer (Sacha, Madeline Merlo)
...
Bookings Contact
Sakamoto Agency: Nima Talasaz / Paul Biro
     Email: nima@sakamotoagency.com / paul@sakamotoagency.com
Office (587) 787-1938 x105 | Cell (250) 250-937-9671